Introducing wide variety of specialty chains, which are designed for particular industries and specifications. Over 75 years of experience of serving roller chain products worldwide, DID is one of the most dependable chain supplier for special applications.
Oil Field Chain (RIG-REDi)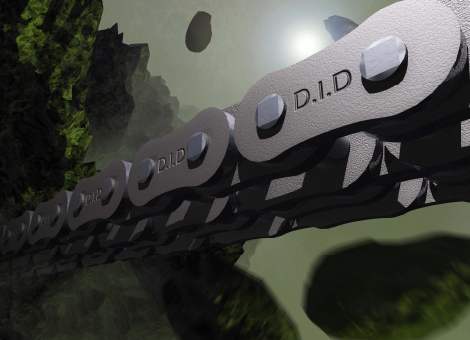 RIG-REDiChain series have wide range of large multiplexchain for oil field use.
Greater Fatigue Strength Ever!
Loose Fit Center Link Plate for improving workability.
Solid Bushing for Greater Wear Life
New developed grease applied over RIG-REDi Chains enhances the wear life and improves the corrosion resistance of the chain.
Leaf Chain
AL series plate dimension and thickness are the same as standard roller chain outer plate.
BL series has wider/thicker plate and larger pin diameter for heavy shock application.
DID is approved by Japanese major Forklift and Construction OEMs.
Bicycle Chain
Lightweight and Compact design to meet today's requirement from Bicycle industry.
Wide variety products range from general use to race competition and KEIRIN.
Hi-Guard coating Bicycle Chains for corrosion resistance and neat appearance.
Agricultural Chain
Excellent quality and durability.
Many specialty chains are approved by major agricultural machine OEMs worldwide.